Clog Free Gutter Systems Installed in Massachusetts
Check out how our gutter systems can benefit your home with this installation video!
If you're a homeowner, you know how much of a hassle it is to clean your gutters. Climbing onto your roof and scraping out leaves, dirt, and other debris is backbreaking work. Even if you don't clean the gutters yourself, it takes time, energy, and money to have them properly cleaned and cleared one to two times per year.
To solve this problem, A&A Services Home Improvement offers a clog free gutter system. This advanced system is designed to keep dirt and debris from piling up in your gutters, allowing for the free flow of water month after month. No more ladders, no more backbreaking work. The clog free gutter system requires little to no maintenance and affords local homeowners with a wide range of additional benefits.
If you want to upgrade to clog free gutters for your home, call the local experts at A&A Services Home Improvement today. We offer free estimates in Marblehead, Peabody, Salem and throughout the surrounding areas.
Clog free gutter system features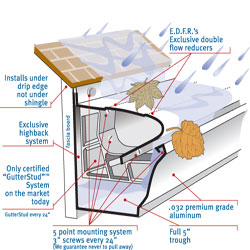 Only the A&A Services Home Improvement clog free gutter system completely encloses and protects your gutters. It has extra high back walls, a 5-point mounting system along with the mostly nylon bracket installed with galvanized all-weather screws (this system is guaranteed never to pull away) but most importantly, it installs UNDER your drip edge.
There are no vertical openings for leaves and debris to enter, and no screens to clog. We use a patented one-piece end cap to prevent leaking and animals from getting in. This system comes in a wide variety of colors with easy to clean downspouts. Our systems include all the following features:
High Back System
5 Point Mounting
Bracket
Roof Drip Edge
Hood - Flow Reducers
End Cap
Color Choices
5" Trough
3" x 4" Downspouts
Catch Basin
Guarantee
Upgrade to clog free gutters today!
If you want to be done with cleaning gutters forever, we're here to help. A&A Services Home Improvement's clog free gutter system is 100% clog free for the life of your gutters and, as always, 100% customer satisfaction is guaranteed. Call us today to get a free estimate in Peabody, Salem, Marblehead, Medford, Lynn, Beverly, Revere, Everett, Malden, Woburn and throughout the surrounding areas.
Looking for a price? Get a no cost, no obligation free estimate.