Professional MA Roof Repair Contractor
Roof Damage. Whether it's one damaged shingle or severe storm damage, it's best to repair your roof right away.
Fast, reliable, and affordable roof repairs in Salem, Peabody, and Marblehead
There are several reasons for homeowners to consider hiring a roofing contractor for roof repairs. Perhaps your house has a minor leak that you've been ignoring, or a severe storm passed through and damaged some of your roof shingles. Though you may have ignored these problems in the past, it's best to act on them now to avoid more permanent, costly, and detrimental issues down the road. Repairing your roof right away can not only prolong the life of your roof, but it will help it remain aesthetically pleasing and enhance the overall value of your home.
The roof is the most important element of your home. It protects your house, your family, and all of your belongings inside the home, including furniture and appliances. It is essential that you keep up with the condition of your roof through proper roof repairs.
Are you in need of roof repairs? A&A Services Home Improvement services Salem, Peabody, Marblehead, Medford, Lynn, Beverly, Revere, Everett, Malden, Woburn, and most areas nearby! Call us today to schedule a free estimate.
Products
Roofing Shingles
GAF offers three distinct levels of shingle quality and protection, plus a remarkably affordable slate shingle option. We'll help you select the one that is right for your home's design and location.
Three-Tab (3-Tab) Shingles
Affordable basic protection for projects on a limited budget.
Timberline® Lifetime Shingles
Protect and beautify your home with Timberline®, North America's #1-selling shingles. Timberline® shingles now have a lifetime limited warranty!
Designer Lifetime Shingles
Beautiful, stylish, and exceptionally durable, Designer Lifetime shingles will make your home the envy of the neighborhood!
Headquartered in Valley Forge, PA, CertainTeed is a leading North American manufacturer of building materials and specializes in the production of high quality roofing and other materials including vinyl siding, trim, fence, railing, decking, insulation, gypsum, and ceiling products.
CertainTeed Asphalt Shingles
CertainTeed manufactures a variety of high quality, durable asphalt roofing systems. Asphalt roofing shingles are the most commonly used covering on residential properties in the market. Asphalt's primary purpose in roofing shingles is to serve as a waterproofing agent. Asphalt also holds the granules in place and adds to the overall strength of the roofing shingle. The best asphalt will stay flexible and will not dry out or become hard or brittle for the expected life of the roofing shingle.
Strip Asphalt Roofing Shingles
Strip asphalt roofing shingles are single-layered asphalt roofing shingles typically designed to look like slate. Strip roofing shingles are usually the lightest weight asphalt roofing shingles available in the market. Built on a tough fiberglass base, each shingle provides resistance to blow-off and tearing.
Dimensional Asphalt Roofing Shingles
Dimensional asphalt roofing shingles are manufactured as multi-layered products and provide a thicker and richer appearance on the roof (a multi-dimensional look). Dimensional roofing shingles typically are heavier weight than strip roofing shingles and usually have improved warranty protections, which can range from 30-years to Lifetime.
Premium Asphalt Roofing Shingles
Premium asphalt roofing shingles are usually described as laminated shingles that have a differentiated appearance or functionality from traditional dimensional asphalt roofing shingles. These products may have designs that mimic "old-world" roofing shingles, like natural slate or natural shake roofing shingles. CertainTeed's Grand Manor™, Presidential Shake™ and Centennial Slate™ shingles are prime examples of premium roofing shingles that provide an enhanced aesthetic appeal.
The results of poor roof maintenance
There are some homeowners who ignore the signs that their roof requires maintenance. The truth is that without having your roof repaired, you could end up with some serious and costly damage. The following are some results that could take place should you choose not to have your roof maintained properly.
Water and moisture that get inside the walls of the home can cause mold and mildew to build up, which will make the air you breathe unhealthy, as well as becoming a large mess to clean up.
The structure of your home can be compromised as wood rots due to too much moisture and water damage.
The problem with the roof could magnify to an expensive issue if it is not maintained when it is a small problem.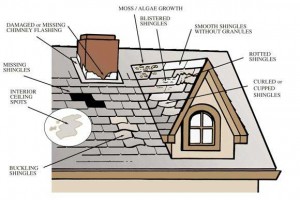 What you should do to maintain your roof in North Shore
On the outside: Look for visible damage; things like buckling and missing shingles, curling or blistering shingles, smooth shingles without granules and rotted shingles; damaged or missing flashing; moss or algae growth.
On the inside: In the spring after the snow melts and in the fall before the leaves drop, take a flashlight into your attic. Check for sagging spots in the roof deck, signs of active water leaks or dark spots and trails from dried up water leaks. Look for outside light shining through a crack in the roof.
If you notice any of these problems, call the experts at A&A Services Home Improvement to get professional roof repair services.
We help with a number of roofing problems:
Wind damage
Hail and storm damage
Damaged shingles
Roof leaks
Problems with your roof flashing
Detrimental impacts from trees, bushes and other outside elements
Damaged gutters and downspouts
Improper roof ventilation
Wood rot
Trust A&A Services Home Improvement with your roof repair needs in Massachusetts
Customer Reviews
"You call this company, you get to talk to someone right away. Very..."

"Very thorough, good communication, quality workmanship. Thank You!"

"The work was done well as always. Where you really shine is your excellent..."
You want to be able to rely on a roofing contractor you can trust, which is why A&A Services Home Improvement is here to help you. We solve a wide range of roofing issues, from leak repairs, to storm damage repairs, damaged shingles, or even signs of wood rot and aging.
If you live in Medford, Lynn, Beverly, Revere, Everett, Malden, Woburn, Peabody, Salem, Marblehead, or any area nearby, contact us today to get started on your roof repairs, and if necessary, roof replacement.