Energy Efficient Replacement Windows Contractor
Get multiple benefits from your replacement windows in North Shore
Watch our experts insulate replacement windows to ensure energy efficiency!
At A&A Services Home Improvement, we understand the need that every homeowner has for energy efficient replacement windows. We are committed to helping our customers conserve energy by providing the best in energy savings through Sunrise Vanguard Windows.
If you want to improve the energy efficiency of your windows, call us today at 1-844-385-9365 or click below to get started. We offer free cost estimates on all our work in Peabody, Salem, Marblehead, and throughout the surrounding areas.
How A&A Services Home Improvement helps you
In order to provide the most in energy savings, there are some specific aspects that need to be given attention to and that is exactly what our professional installers do.
We offer Sunrise Vanguard Windows because we believe they provide the highest quality energy efficiency as described below.
When we repair windows or provide window installation, we always insulate around the windows to add to the energy efficiency.
We customize window sizes and shapes so that they fit just right; working directly with window manufacturers so that there is no miscommunication through a middle man.
With so many styles of windows, every situation is uniquely catered to and we personally work with you, the homeowners to come up with the best solutions for your window situations.
How Sunrise Vanguard windows rate
How to Read the Label: The National Fenestration Rating Council (NFRC), provides consistent benchmark ratings on performance characteristics of different window and door brands, allowing you to compare different brands by the same fair standards. With Vanguard Windows, we've invested time and money to provide consumers certified performance data so you can be certain that our products will perform for you.
Interpreting U-Factor Ratings: U-Factor Ratings typically range between .20 and 1.20. The lower the U-Factor the less energy you will use to heat your home.
Visible Transmittance: Visible Transmittance, commonly referred to as VT, measures the amount of light that enters through your window. VT ratings typically range between 0 and 1. The higher the visible light transmittance, the more light that is transmitted through your window.
Solar Heat Gain Coefficient: A low Solar Heat Gain Coefficient, commonly referred to as SHGC, equates to less solar radiation admitted through your window. SHGC ratings typically range between 0 and 1. A lower Solar Heat Gain Coefficient rating means your home will remain cooler during the summer months.
Air Leakage: Windows are tested for air infiltration to see if they allow air to pass through; a number rating of either 0.3, 0.2, or 0.1 is then assigned. The lower the number, the less drafts you'll have in your home.
Energy Efficient Products For My Climate: ENERGY STAR® performance requirements for windows and doors are tailored to fit the energy needs of the country's different climate regions - Southern, Northern and Central. The ENERGY STAR® Climate Region Map gives you clear guidelines for determining which windows and doors will do the best job to help reduce heating and cooling costs in your region - and your home. To be sure, crosscheck your window selection with the Climate Region Map on each ENERGY STAR® label. In all cases your decision is simplified; Vanguard products meet performance requirements for all three regions.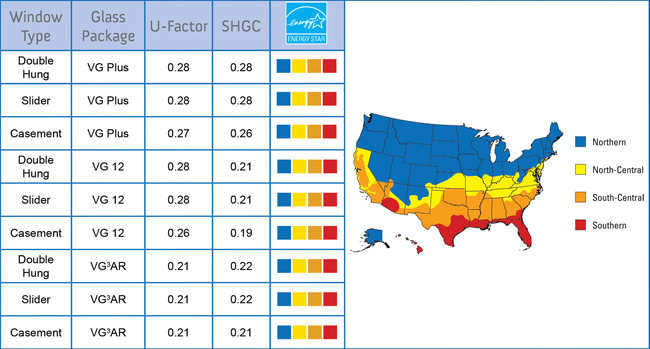 This data is accurate as of May 1, 2012. Due to ongoing product changes, updated test results, or new industry standards or requirements, this data may change over time. Ratings are for sizes specified by NFRC for testing and certification. Ratings may vary depending on use of tempered glass, different grid and decorative glass options, glass for high altitudes, and coastal applications.
Get a free quote on replacement windows
If you're interested in energy efficient replacement windows for home, call us today at 1-844-385-9365 or contact us online to get started. We offer free window replacement cost estimates in Peabody, Salem, Marblehead, Medford, Lynn, Beverly, Revere, Everett, Malden, Woburn, and throughout the surrounding areas.
Looking for a price? Get a no cost, no obligation free estimate.